As a new decade arrives, it is apparent that the Philippine growth engine would be faced by internal and external challenges. The economy now faces an erratic global environment shaped by several reforms: the trade war between the US and China, the unpredictability of the Brexit, and the unrest in Hong Kong and the Middle East - all these initiate the creation of ceilings for the otherwise healthy growth of the economy, making it tough to sustain and carry over the previous year's six percent growth into the coming year. No doubt, the current administration's Build, Build, Build program continues to be the centerpiece of economic sustainability. Lessons learned due to 2019's budget delay ensure that the mentioned infrastructure program continues to stay at the forefront of economic expansion.
Nonetheless, the uncertainty of corporate tax reforms creates an unnecessary worry that's evident in the investment numbers. Likewise, as businesses line up their investment plans, the fear of a real estate slowdown amidst heightened POGO regulations, and the slowing down of the BPO sector have also begun to show.
Ateneo's Eagle Watch economists will provide perspective with respect to the navigation and identification of possible winners under the context of such an environment. They will also assess which economic indicators would most likely be affected by the mentioned changes, including with industry trends and micro-directions. As per usual, the regular forecasts per sector, and the economic digits regarding inflation, interest rates, and markets will be discussed.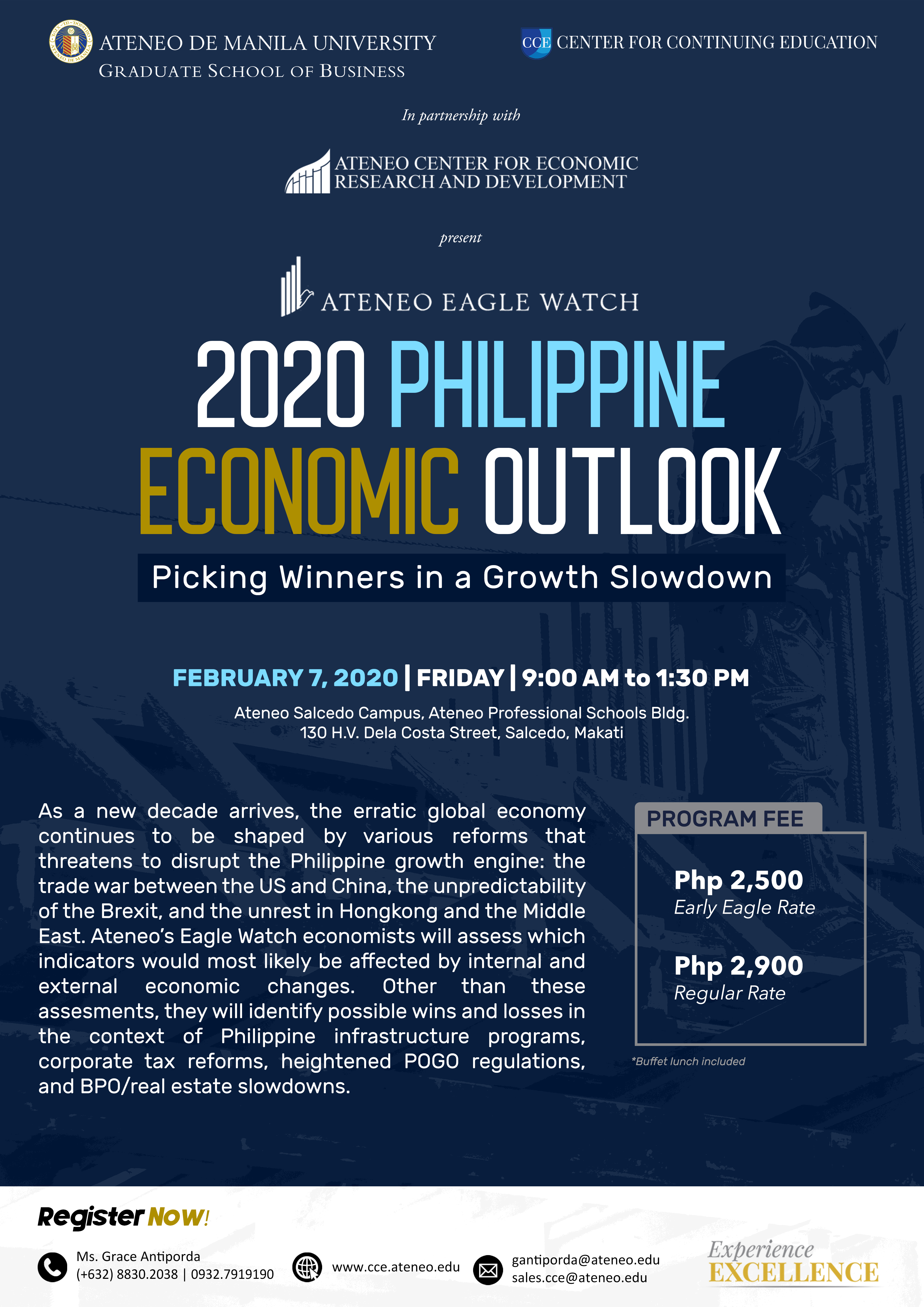 Register now!
We have limited slots only. For reservations, call Ms. Grace Antiporda at (+632) 8830.2038 / +639327919190 or email gantiporda@ateneo.edu. You may also confirm your attendance via email with your name and contact details.